Benchmark Dining Table by Ruff Sawn
bm4260st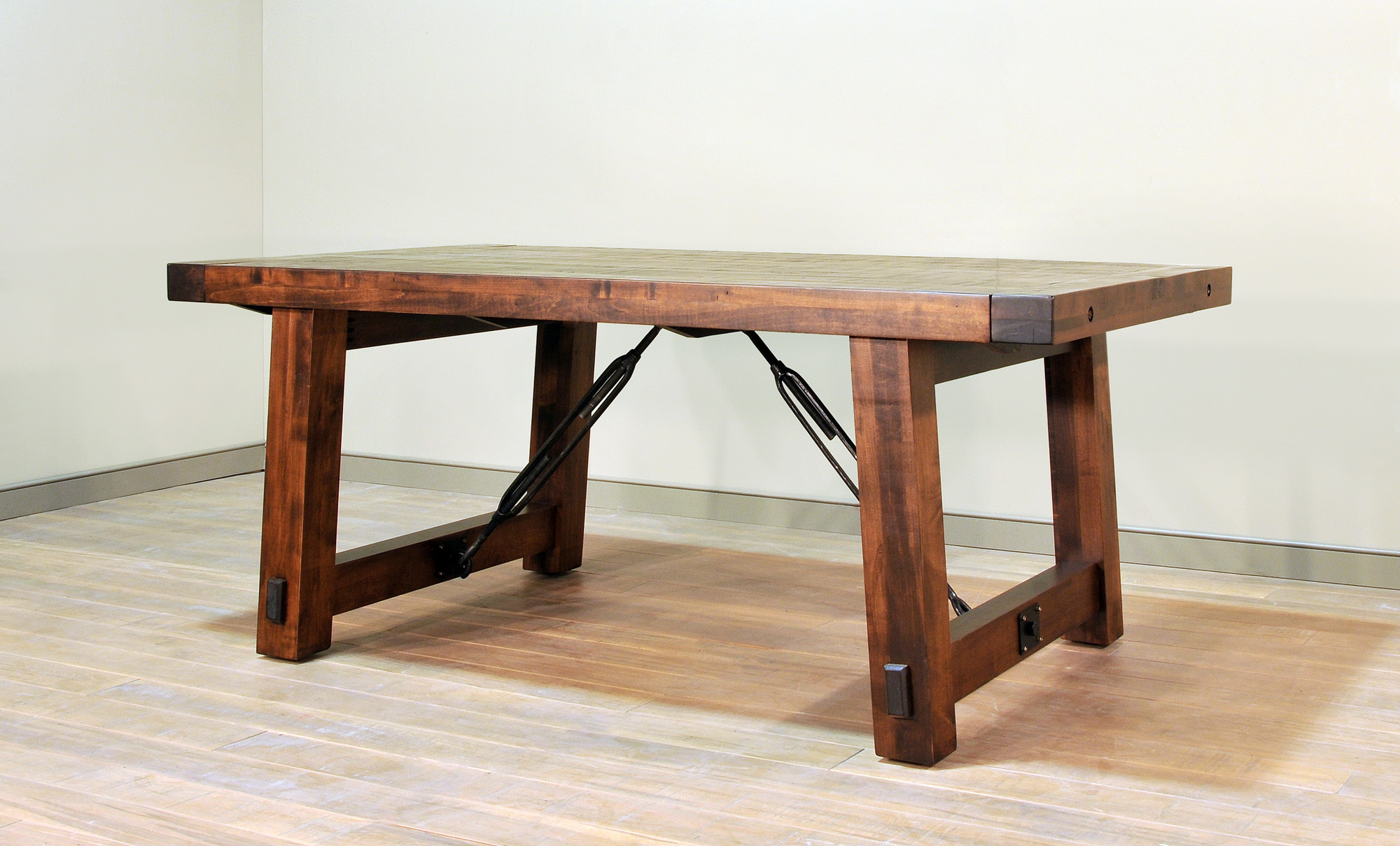 Ruff Sawn by Schlabach Country Timbers
Benchmark Series Dining Tables. Solid wormy maple table series has 3" top, 4" canted legs with tenon accents and distinctive turnbuckles.
Table comes standard without leaves.
End extensions are available in all sizes and are 18" on each end.
Tables with extensions can be selected on the 2nd half of the "Size" option list.
Choose from any of the different Schlabach Stains.
Size
42"W x 60"L (0) 42"W x 72"L (BM4272ST) (5) 42"W x 84"L (BM4284ST) (16) 42"W x 96"L (BM4296ST) (34) 42"W x 108"L (BM42108ST) (56) 42"W x 120"L (BM42120ST) (72) 48"W x 72"L (BM4872ST) (19) 48"W x 84"L (BM4884ST) (30) 48"W x 96"L (BM4896ST) (50) 48"W x 108"L (BM48108ST) (70) 48"W x 120"L (BM48120ST) (88) 42"W x 60"L w/2 Extensions (BM4260BB18) (57) 42"W x 72"L w/2 Extensions (BM4272BB18) (70) 42"W x 84"L w/2 Extensions (BM4284BB18) (89) 42"W x 96"L w/2 Extensions (BM4296BB18) (107) 42"W x 108"L w/2 Extensions (BM42108BB18) (126) 42"W x 120"L w/2 Extensions (BM42120BB18) (149) 48"W x 72"L w/2 Extensions (BM4872BB18) (91) 48"W x 84"L w/2 Extensions (BM4884BB18) (110) 48"W x 96"L w/2 Extensions (BM4896BB18) (129) 48"W x 108"L w/2 Extensions (BM48108BB18) (148) 48"W x 120"L w/2 Extensions (BM48120BB18) (170)
Stains
Frontier (0) Onyx (0) GGO (0) Rich Tobacco (0) Coffee (0) Michaels (0) Asbury Full Strength (0) OCS-111 Boston (0) Fawn (0) Aged Centennial (0) Honeycomb (0) Weathered Gray (0) Weatherwood (0) Hazelnut (0) Autumn Haze (0)
Glaze on Stain
No Glaze (0) Black Glaze (20)