Bridgeport Home Office Group by Dutch Creek
BRID-903 BRID-912 BRID-901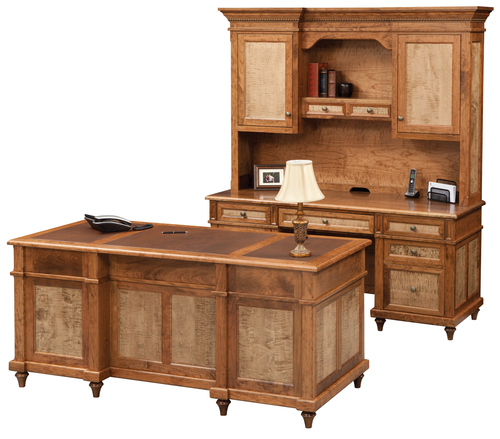 "Bridge Port" Series by Dutch Creek.
3 piece Price is the Credenza, Hutch, & Executive Desk TOGETHER for your convenience in one purchase!
Credenza and Hutch. BRID-903 BRID-912 (background)
Hutch with touch switch operated can light behind valance. Credenza knee space offers lock-in/lock-out feature on keyboard shelf.
Executive Desk. BRID-901 (foreground)
This unique executive desk comes standard with a solid 1" top and a pencil drawer in
the kneespace. It is pictured here with optional Cherry and Tiger Maple Panels and a 3-piece leather insert for the top.
Priced in Solid Cherry frames & Tiger Maple (lighter finish) panels as shown.
Also available in the wood specie of your choice. If you choose a different specie through our menu it will be one wood. If you want other wood combinations please contact us!
3 Hardware choice available at no charge (see product gallery for color choices).
Credenza: 30½"H x 68"W x 24½"D
Hutch: 49"H x 71"W x 14½"D
Executive Desk: 30½"H x 68"W x 30"D
Wood Type
Cherry frame with Tiger Maple inserts (as shown) (0) Cherry (0) Oak (-11) Brown Maple (-7) Quarter Sawn White Oak (6) Walnut (30)
OCS Stain
OCS-100 Natural (shown) (0) OCS-101 S-2 (0) OCS-103 M.X. (0) OCS-104 Seely (0) OCS-106 Acres (0) OCS-107 Washington (0) OCS-108 S-14 (0) OCS-109 S-12 (0) OCS-110 Medium (0) OCS-111 Boston (0) OCS-112 Provincial (0) OCS-113 Michael's (0) OCS-114 Traditional (0) OCS-116 Harvest (0) OCS-117 Asbury (0) OCS-225 Mission (maple) (0) OCS-226 Coffee (0) OCS-227 Rich Cherry (0) OCS-228 Rich Tobacco (0) OCS-229 Bing Cherry (0) OCS-230 Onyx (0) OCS-341 White (10) OCS-342 Cottage White (10) OCS-343 Black (10) OCS-344 Cran Apple Red (10) OCS-345 Hunter Green (10) OCS-348 Chelsea Grey (10) OCS-346 Green Frost (10) OCS-347 Royal Blue (10)
Hardware
Brass Patina 1466-r2 (shown) (0) Oil Rubbed Bronze 1466-orb (0) Pewter Patina 1466-wid (0)