Lexington Credenza & Hutch Desk
LEX 303 312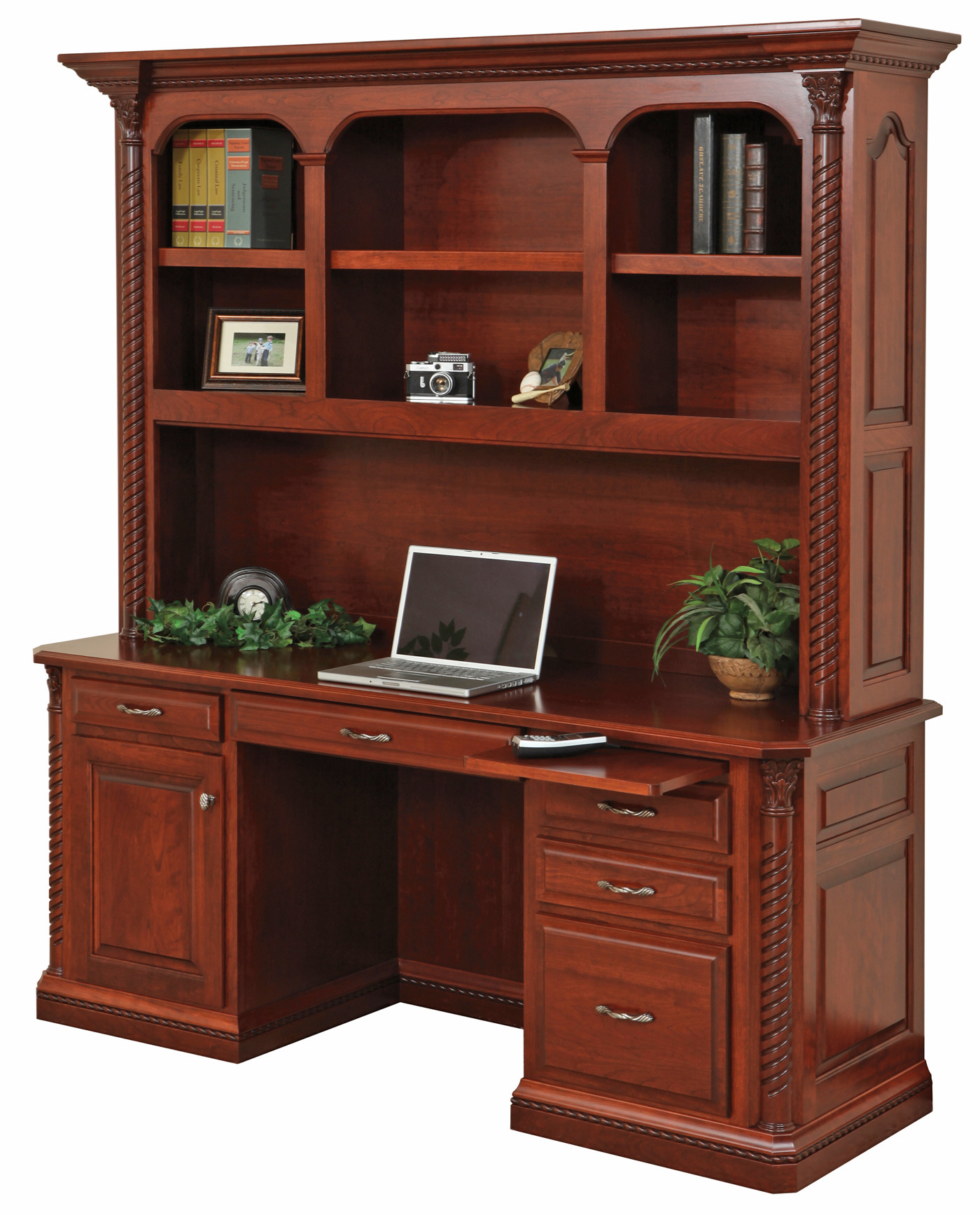 "Lexington" Series by Dutch Creek.
Credenza and Hutch.
The Lexington exhibits high craftsmenship through the use of corbels, rope molding and twisted flutes.
This unit features a keyboard drawer in the knee space and pull-out shelf in the left pedestal for your CPU. Also featured is a file drawer and a pull-out writing surface.
The hutch features a glass shelf and One can light with a touch dimmer in the center.
Shown in Cherry wood with Acres stain
LEX-303 – Base – 30½"H x 72½"W x 23½"D
LEX-312 – Hutch – 49"H x 75"W x 16"D
OCS Stain
OCS-100 Natural (0) OCS-101 S-2 (0) OCS-103 M.X. (0) OCS-104 Seely (0) OCS-106 Acres (0) OCS-107 Washington (0) OCS-108 S-14 (0) OCS-109 S-12 (0) OCS-110 Medium (0) OCS-111 Boston (0) OCS-112 Provincial (0) OCS-113 Michael's (0) OCS-114 Traditional (0) OCS-116 Harvest (0) OCS-117 Asbury (0) OCS-225 Mission (maple) (0) OCS-226 Coffee (0) OCS-227 Rich Cherry (0) OCS-228 Rich Tobacco (0) OCS-229 Bing Cherry (0) OCS-230 Onyx (0) OCS-341 White (10) OCS-342 Cottage White (10) OCS-343 Black (10) OCS-344 Cran Apple Red (10) OCS-345 Hunter Green (10) OCS-348 Chelsea Grey (10) OCS-346 Green Frost (10) OCS-347 Royal Blue (10)
Wood Type
Oak (0) Brown Maple (3) Cherry (8) Walnut (46)
Hardware
Brass 1470R-1/1474R-1 (shown) (0) Pewter 1470PWT/1474PWT (0)
Hutch
Hutch included (standard price) (0) No Hutch (Credenza only) (-40)