Tuscan Table by Ruff Sawn
tuscsp3636st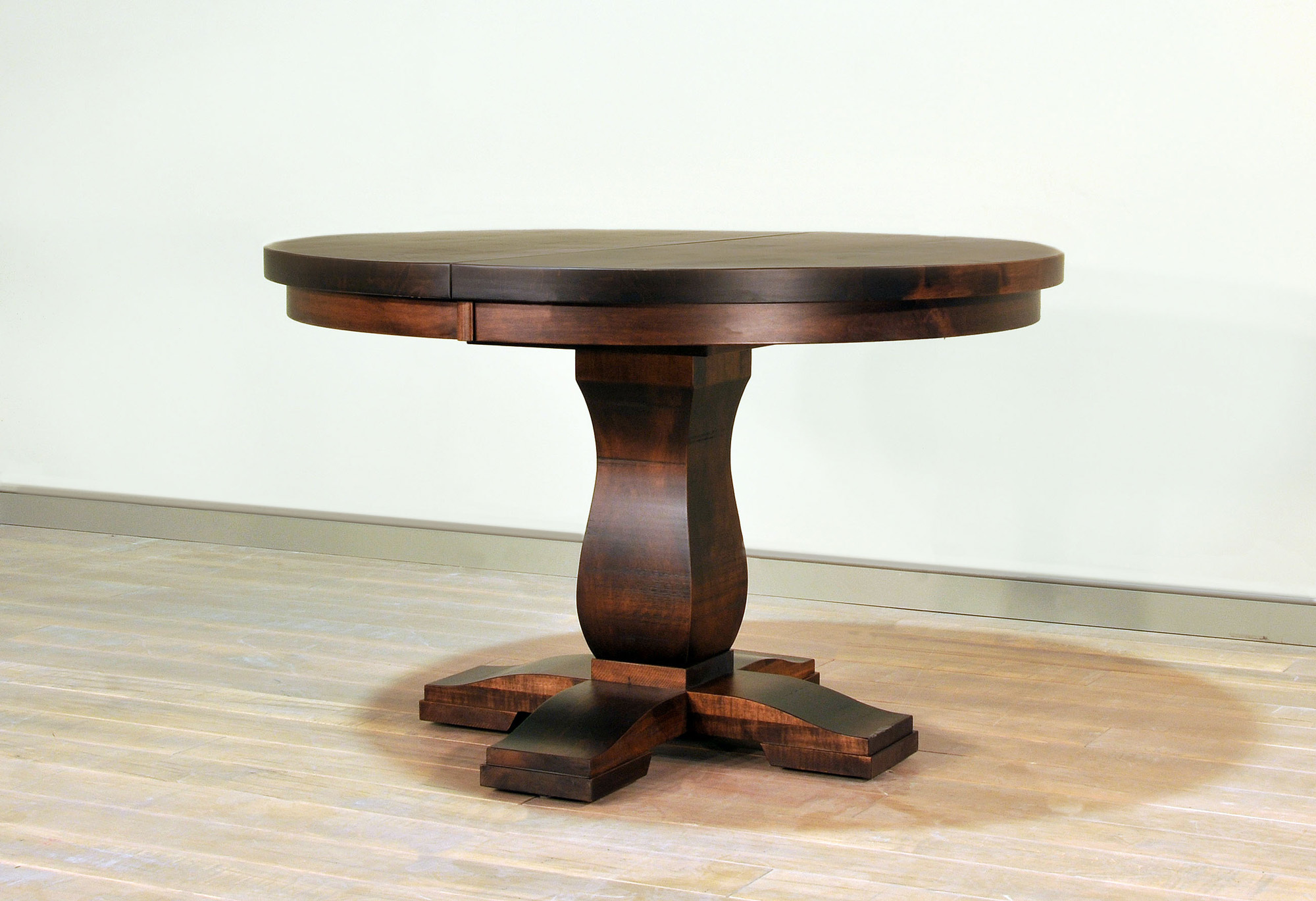 Ruff Sawn by Schlabach Country Timbers
Tuscan Single Pedestal Series Dining Tables.
This series pays homage to the classic "Tuscan" style pedestal with the unique rough sawn texture.
Solid wormy maple. Tops come standard with square edge and 1 3/4" thickness.
Double Pedestal version is also available (not pictured).
For sizes not listed please contact us! Two-Toning as please contact us!
Size
36" Round Solid top (0) 42" Round Solid top tuscsp4242st (8) 48" Round Solid top tuscsp4848st (20) 54" Round Solid top tuscsp5454st (40) 60" Round Solid top tuscsp6060st (65) 36" Round w/1 12" leaf tuscsp3636112 (14) 36" Round w/2 12" leaf tuscsp3636212 (23) 36 x 42" w/1 12" leaf tuscsp3642112 (19) 36 x 42" w/2 12" leaf tuscsp3642212 (29) 36 x 48" w/1 12" leaf tuscsp3648112 (22) 36 x 48" w/2 12" leaf tuscsp3648212 (33) 42" Round w/1 12" leaf tuscsp4242112 (24) 42" Round w/2 12" leaf tuscsp4242212 (34) 42 x 48" w/1 12" leaf tuscsp4248112 (29) 42 x 48" w/2 12" leaf tuscsp4248212 (40) 48" Round w/1 12" leaf tuscsp4848112 (35) 48" Round w/2 12" leaf tuscsp4848212 (47) 54" Round w/1 12" leaf tuscsp5454112 (62) 54" Round w/2 12" leaf tuscsp5454212 (75) 60" Round w/1 12" leaf tuscsp6060112 (83) 60" Round w/2 12" leaf tuscsp6060212 (100)
Stains
Frontier (0) Onyx (0) GGO (0) Rich Tobacco (0) Coffee (0) Michaels (0) Asbury Full Strength (0) OCS-111 Boston (0) Fawn (0) Aged Centennial (0) Honeycomb (0) Weathered Gray (0) Weatherwood (0) Hazelnut (0) Autumn Haze (0)